Thinking about dental crowns? Did you know that that there are several different kinds, made from different materials? You may have heard about porcelain crowns, but how about Zirconium? In this article, I'll explain what they are, and why you might want to choose them.
Dental crowns or 'caps' as they are commonly called are simply new teeth – or at least that part of the tooth that you can see in your mouth. They serve the purpose of restoring biting and chewing function and giving you back your smile, so it's important to know beforehand what you want when visiting your cosmetic dentist abroad.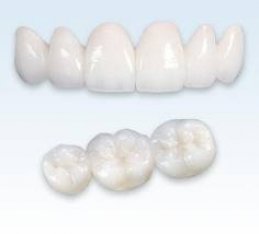 Traditionally, crowns have been constructed with a strong layer of metal on the inside and a layer of hard porcelain on the outside. The two together make up the entire crown. Without the inner metal layer, the outer porcelain portion would most likely chip or break over time as it's not durable enough on its own to withstand the high pressure of biting and chewing.
The main problem with metal is that it's not translucent and, therefore, doesn't allow light to pass.  As a result, crowns can appear a bit 'grayish' or opaque in color in comparison to natural teeth. If you're 'blessed' with rapidly receding gums, you'll also not like how the metal increasingly becomes visible around the gum borders.
Over the last decade, zirconium dioxide has become the preferred material recommended by dentists for crowning teeth. The white-colored, 'metal-like' material, commonly referred to as 'white steel' has a much better translucency and offers the same robust properties as metal.  Literally, it's indistinguishable in color from natural teeth and just as strong as having 'real' metal. Best of all,you won't see any metal around the gum border as gums recede.
So, if it's the "Hollywood Smile" you're after, they would be a good choice for your front upper and lower teeth – the ones that show when you smile.
They do cost a bit more than metal-fused-to-porcelain crowns, so if you're on a budget, choose the cheaper option for your back teeth. Let's face it, besides the dentist, who really sees your back teeth anyway. For full mouth dental rehabilitation read our article on implant supported dentures for upper and lower jaw reconstruction.